Owning a performance horse means taking steps to ensure its health and wellness above and beyond routine horse vet services. At Southern Equine Veterinary Services, we dedicate part of our practice to helping you maintain the optimal health and wellness of your performance horse. Some of our capabilities include: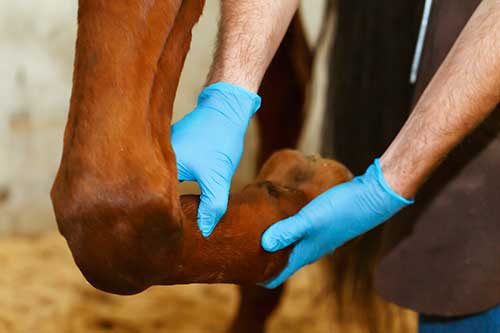 Lameness examinations: Diagnosing lameness is a firm and final assessment of a horse's wellness and it's a diagnosis that shouldn't be made lightly. Our horse vets provide thorough and complete equine lameness examinations in KY to take any and all guesswork out of the situation.
Joint injections: Joint problems are bound to arise in performance horses and they can persist for a number of reasons. Through joint injections, we can assist you in administering relief from painful conditions and inflammation, while protecting the animal from the development of chronic conditions.
Digital radiographs: For an evaluative approach to equine sports medicine, digital radiographs are essential. They take the guesswork out of determining ailments and shed light on bone, joint and muscle conditions that can then be treated appropriately.
Tendon ultrasonography: Damage to tendons can be hard to detect without tendon ultrasonography, making it a crucial tool in determining damage to tendons, preventing further damage to both bone and muscle connective tissue.
Muscle group blocks: If lameness is a concern in your animal, pinpointing specific muscle group blocks can help in making a determination of the condition. Our horse vets are adept at realizing desensitized areas to trace muscle group blocks back to instability and lameness.
Ophthalmic exams: Need to gauge the visual acuity of your horse? We provide ophthalmic exams to help assess your horse's vision and depth perception.
PRP Injections: Platelet Rich Plasma injections to help the tissue healing for various injuies such as: tendon injuries, eye ulcers and skin wounds.
If you have questions about any of the services above or would like to learn more about our entire gamut of performance horse sports medicine, equine reproduction services, and dentistry work in Knob Lick, Metcalfe County, Hiseville, or Center, KY, contact us today by calling 270-261-1177.